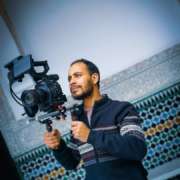 Abdou Dakhane
To any journalist, producer or filmmaker
Hello ,,
For those who have a documentary film project in various fields, Idea,
scenario ...
1. Art, Culture and Travel (1 or 1.5 hour): Films that focus on the arts of
all types, such as music, painting, dance or any other type of art. This strand
also includes the films about travels and adventures
2. People Inspiration (1 hour): Films exploring different stories around
the world and highlighting the diversity of human experiences and traditions.
3. History (1 or 1.5 hour): Historical films that investigate peoples'
memories and their recorded history.
4. Free Lens (1.5 hours) Creative films that coexist characters for more
extended periods and are based on cinematic narration.
5. People (1 or 1.5 hour): All films that deal with human stories of all
kinds and, are not subject to previous film classifications.
There is an opportunity to work with one of the big channels in the world
if you are interested this is my contact
e-mail/ fikra.prod12@gmail.com
kind regards
Abdou dk