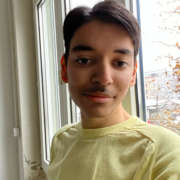 Shiv Mehta
SCRIPT SUPERVISOR WANTED 
SCRIPT SUPERVISOR WANTED
I am looking for an script supervisor who can provide support for me the director and helps us maintain continuity between different shots and parts of a movie.
Tasks include
- Analysis: break down, time and itemise scenes in terms of set, costumes, make-up, props and dialogue according to where they are in the story.
- Attention to detail: be meticulous and methodical in taking precise notes quickly and efficiently.
- Communication: let the director, actors, crew, hair, make-up and production know about continuity issues
shooting dates: January 17 - 21 2024
Filming location: Zurich
The project is a passion project in which everyone involved contributes unpaid.
Synopsis of movie
Fate is the story of Malia who has dreams of being a singer but is abused and exploited by her family (Orlena and Crystal). Who have been trying to use Malia's voice to make money and become famous. One day she decides to take her fate into her own hands and runs away from her family. She runs into a girl named Sophie and Sophie offers her a place to stay and through conversation rediscover a forgotten friendship. In a final confrontation with Orlena and Crystal, Malia choses a life free of abuse.
Are you interested in being part of it? If yes, contact: mshiv094@gmail.com
I look forward to receiving numerous applications and possibly working together soon!
Best regards,
Shiv Mehta