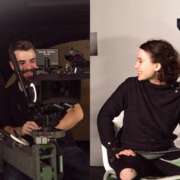 Alex Morf
Call for Post Production: Video Editing, Color, Audio, VFX
About?
For the upcoming short film, "The Parallax Realm," the team is currently recruiting a Post-Producer, with expertise in video and audio editing, color grading, and preferably some VFX skills.
Have you always wanted to edit surrealist films for film festivals? If you love post-production, being inventive in the fun category of bizarre short films, and using and expanding your creativity, then here is your best chance and opportunity to cooperate on this unique project and contribute your own concept to make this professional short film a smash.
The film's production crew consisted of roughly 15 experienced film professionals, who just completed the shooting stages of a surrealist short film for the final Film Bachelor's project.
What You'll Love About this?
You have always wanted to edit a surrealist film for film festivals.
You thrive when given the opportunity to express your imagination, and your ideas and solutions are always fresh and innovative.
You're an excellent storyteller who can select actors' best emotional states by empathizing with their emotions.
You like altering movies to provide additional context, connection, and symbolism, and you're good at it.
You have a passion for cutting-edge video storytelling that evokes strong emotions in its viewers.
You break the rules or defy the constraints of traditional monotonous video editing approaches.
You appreciate exercising your imagination and are capable of creating great and original ideas and cuts.
You have a deep and personal connection to the editing and narrative process, and you are very unique and skilled in the work you create.
You want to give each film your own unique twist and surprise viewers with your editing abilities.
You don't mind working closely with the director of the film on occasion so that she may provide feedback and assist you through the process.
You have the skills and are interested in pursuing new talents, are spirited, full of passion and are willing to edit the whole post-production process, from beginning to end, and you have the time to do it.
For this role, at least four to six years of experience is recommended, but if you're skilled enough then not required.
Curious?
You have time and love new initiatives? You're fast, reliable, and timely. You're a friendly, extroverted, dependable, enthusiastic, and open-minded working partner. You prefer collaborative editing, indicating you're team-oriented and open. You'll work closely with the director, and you like interacting with others, contributing to the success of a team and are highly passionate?
Then this opportunity could be a suitable match for your true passion!
Benefits?
Your work on the surrealist 20-minute short film will be shown at film festivals! A new challenge and experience! After film festivals, you'll be recognized and can use it for your portfolio. Film is your passion, not a job, thus you work in it.
Certain Duties?
Post-Production, Video Editing & Storytelling
Audio Production, Synchronizing audio to video for dialogue
Organizing and selecting audio & video footage
Sound Effects, Music & Design (ex. using our already recorded sounds or artlist)
Color-Grading & Noise Reduction
VFX (Visual Effects); (ex. Rain, Droplets, Fog, Smoke, lightning, etc).
Tools Needed?
Powerful video editing computer for high-performance post-production & VFX,
Editing 4k or 8k video, mainly in 50fps, or by utilizing proxy files
Post-Production Software for High-Quality Video Editing (ex. Premiere Pro)
VFX Software for Visual Effects (ex. After Effects)
Audio Editing Software (ex. Audition)
Color-Grading Software (Davinci Resolve)
Expertise In?
Premiere Pro (Edit)
After Effects (VFX)
Davinci Resolve (Color)
Adobe Audition (Audio)
4D Cinema, Blender VFX, 3Ds Max (Beneficial but not required)
What we can Provide you with?
If you can't afford the tools above, but have considerable expertise and skills in them;
You can feel free to come work on our campus computers during the week, should be open from 9am-9pm evening.
Adobe Creative Cloud; 10+ Applications & Davinci Resolve
Artlist Account
If you require any other software for this project, we may pay for it.
Film Prologue
The short film "The Parallax Realm" is about the past of an elderly man named Jamie, in which a young urban couple named Mazie and Jamie run into conflict together, and his world is turned upside-down when his dark past catches up with him. Mazie eventually gets pulled into a hologram, where she tries to contact Jamie inside her parallax world. So, the script's "final line": "In the end, though, your history will always catch up with you."
When?
Beginning today, the first draft is due on December 12, 2022, the second on December 19, 2022, and the final version on either December 25, 2022 or January 1, 2023.
Salary?
Since we are a Bachelor's student film production paying with funds that were mainly allocated for professional camera equipment and rentals, we are only able to pay the current rate (around 200-300fr.) for the whole process. Requesting a reimbursement for travel expenditures is possible.
In exchange, you'll gain a compelling film production for your resume and portfolio, a new profitable creative challenge, and a rewarding experience for your role, exposure to new professionals in this sector. Where you will be awarded for your efforts, and a testimonial, credits, and other benefits. We are excited to promote you and approach you for larger projects. Free beverages, snacks, and meals will be offered, as well as contact information for film specialists. The chance to network with more professional creative artists in the film industry, develop long-lasting partnerships, and broaden your career network. If you desire it, a professional background photographer may be arranged to have some background photography done for you as you work on the project.
Interested?
Then get in touch!
Send us your website or portfolio, your resume, a photo of yourself, and an answer to the following question: What is your favorite movie, and what inspires your love and competence in post-production; video editing, audio production, sound & music, color-grading, and possibly VFX skills?
If you have further questions, ask away!
Alex Morf,
+41 79 550 42 86