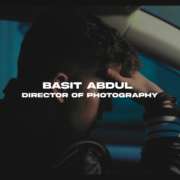 Basit Abdul
Directors - DPs - creatives - actors etc.
Hi guys. I have 2 propositions.
1st
I'm shooting my first narrative project ever for a student director from F und F school. It's a 20 page script will be shot in January 2024 and we need an 1st AC (back up) and gaffer (back up) Lemme know if anyone is interested.
Dates are 17th till 21st , with 1 day reserve. Shooting will be in an Air bnb in rüschlikon, Zurich.
2nd
The camera gear I'll be shooting the film is FX9 with cine alta 1 SCL prime lens, shogun monitor , glimmer glass etc.
I also have my own gear
Sony A6600
Desview monitor
Sigma 18-35 F1.8
Sigma 16mm F1.4
Sony 16-55
Helios 44m cine moded
A lot or prism FX lens
Magic arms, tripods, super klamps
Diffusers.
Lumen stick light.
I'm gonna be having this camera and stuff from 21th till 1 dec to mess around with it, test it and stuff, so if any director, actors, creatives are interested to create smt like a spec or just anything cool in general lemme know, most probably it's gonna be a collaboration with
Feel free to DM me if you wanna ask or suggest anything
Insta
basitatwork368
here is a link to my unfinished showreel.
https://vimeo.com/878772314