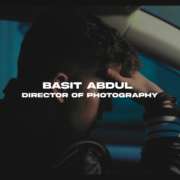 Basit Abdul
Directors (inspiring or student) DPs, film ppl and producers
This is a reaching out post , hi My name is basit, I'm a young and hungry Cinematography.
I started my career professionally around 2 years ago, I started off working with Switzerland's biggest stars such as ZEKI and Gusti (Jounge Gustav) but my eyes were always on to become a Cinematographer, I than transitioned into double more corporate commerical work in thurgau as in thurgau that's the market.
Later I interned for a small studio and shot a lot for SBB with the agenct RON ORP.
in recent my months I've worked more in Zurich working with productions and agencies as SAP, farbfilm, 808 production, TBWA. I also worked for a big agency as video producer.
I'll be shooting My first feature film for a student director from F und F school in Jan 2024.
So if you're an up and coming director or student director or a DP or a gaffer or anyone from the film field feel free to reach out and connect on my insta/mail or if you wanna talk about how film is better than digital.
Here is a link to my unfinished showreel and socials
https://vimeo.com/878772314
Website
https://sites.google.com/view/basitabdul-portfolio/home?authuser=0
Behance
https://www.behance.net/gallery/168118255/DOP-Creative-Portfolio
YouTube
https://m.youtube.com/channel/UCSmP2Omb7bfUFFVaq-nV33A
Insta (DOP)
https://instagram.com/basitatwork368?igshid=YmMyMTA2M2Y=
Insta (Content creator)
https://www.instagram.com/basit2160/
LinkedIn
https://www.linkedin.com/in/basit-abdul-7078811b8