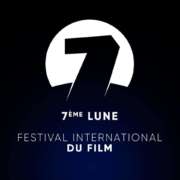 Festival 7ème Lune
7eme Lune - Call for entries 2022
Hello!
We are a French film festival, based in Paris, that focuses on young filmmakers under 30 years old from all around the world. Our goal is to discover young talented people, and invite them to our festival to meet each other as well as professionals like our former jury members Claire Denis, Cedric Klapisch, or Alain Guiraudie. We are really proud to also have Gilles Jacob - who has for 40 years built the Cannes Festival as it is today - as an official sponsor!

Our call for entries is open until April 27th 2022 and we would love to receive your films for consideration by our selection team. The event will take place on June 23-26th.

We accept any type or genre of short and feature films, the only rules being that the director must have been under 30 years old at the time of completion, and that it was completed in 2021. We are on FilmFreeway : https://filmfreeway.com/7emeLune
Registration is 2€ until 7 April and then 4€ until the deadline of 27 April.

Do not hesitate to come back to me if you have any questions!
Thank you in advance, and looking forward to seeing the films !

Maxime Piras
Coordinator of the call for films
maxime@7emelune.com
http://www.7emelune.com